Student Life & Leadership
Hornet Leadership Program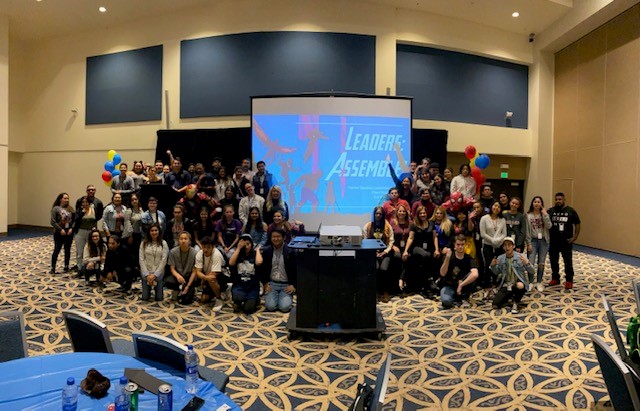 The Hornet Leadership Program is funded by student equity monies and supports Fullerton College's mission by advancing and empowering student learning and achievement through a guided pathway to leadership development.  Through this student leadership program, we will cover the fundamentals of leadership for emerging student leaders and continue to build upon the core foundation of leadership principles and framework for established student leaders.  Student leaders will become action-driven practitioners for the campus community, will "learn by doing," and will model effective and dynamic leadership at Fullerton College. 
Upon completion of each level achieved in the Hornet Leadership Program, student leaders will reach outcomes that include, but are not limited to the following: effective communication, intellectual growth, interpersonal skills, social responsibility, and leadership development.
Hornet Leadership is centered on four areas, building upon the college's core values of community, diversity, equity, excellence, growth, inclusivity, innovation, integrity, partnership, respect and responsibility:
Global/community perspectives
Ethics, values, & decision making
Personal empowerment
Interpersonal skills.
Each of these areas will help the student develop holistically as they challenge themselves through workshops, service hours, and other student leadership projects that are grounded in diversity, equity, inclusiveness, cultural immersion, social justice, enhanced resume and communication skills, and team dynamics.  Students are encouraged to participate in all approved leadership opportunities that will build their co-curricular transcript of student life and leadership.
For more information, please contact:
Elisa Cirrito, Hornet Leadership Project Specialist | 714.992.7118 | ecirrito@fullcoll.edu
Levels of Leadership Development
BRONZE Level
Attend the Hornet Student Leadership Retreat for emerging leaders (fall semester) -OR-
Two (2) Hornet Leadership Workshops or other pre-approved leadership workshops at Fullerton College
SILVER Level
All requirements completed from the Bronze level, plus the following additional:
Two (2) Hornet Leadership Workshops or other pre-approved leadership workshops at Fullerton College -AND-
Participation of volunteer hours for one (1) Fullerton College campus-wide event (i.e. Welcome Back/Bienvenidos!, Quad Haunt, Dia de los Muertos, Veteran's Week, WorldFest, FC Angels, Students of Distinction, Commencement, etc.)
GOLD Level
All requirements from the Bronze and Silver levels, plus the following additional:
Three (3) Hornet Leadership Workshops or other pre-approved leadership workshops at Fullerton College -AND-
Participation of volunteer hours for one (1) Fullerton College campus-wide event (i.e. Welcome Back/Bienvenidos!, Quad Haunt, Dia de los Muertos, Veteran's Week, WorldFest, FC Angels, Students of Distinction, Commencement, etc.)